"The true end of the world for the human being is the belief that we are alone. We of course cannot be physically alone; but we can become psychically alone. In our isolation, our independence, we lose the connections that make us human. To stare at the screen, to lose the binds of culture and community, is to arrive at the apocalypse."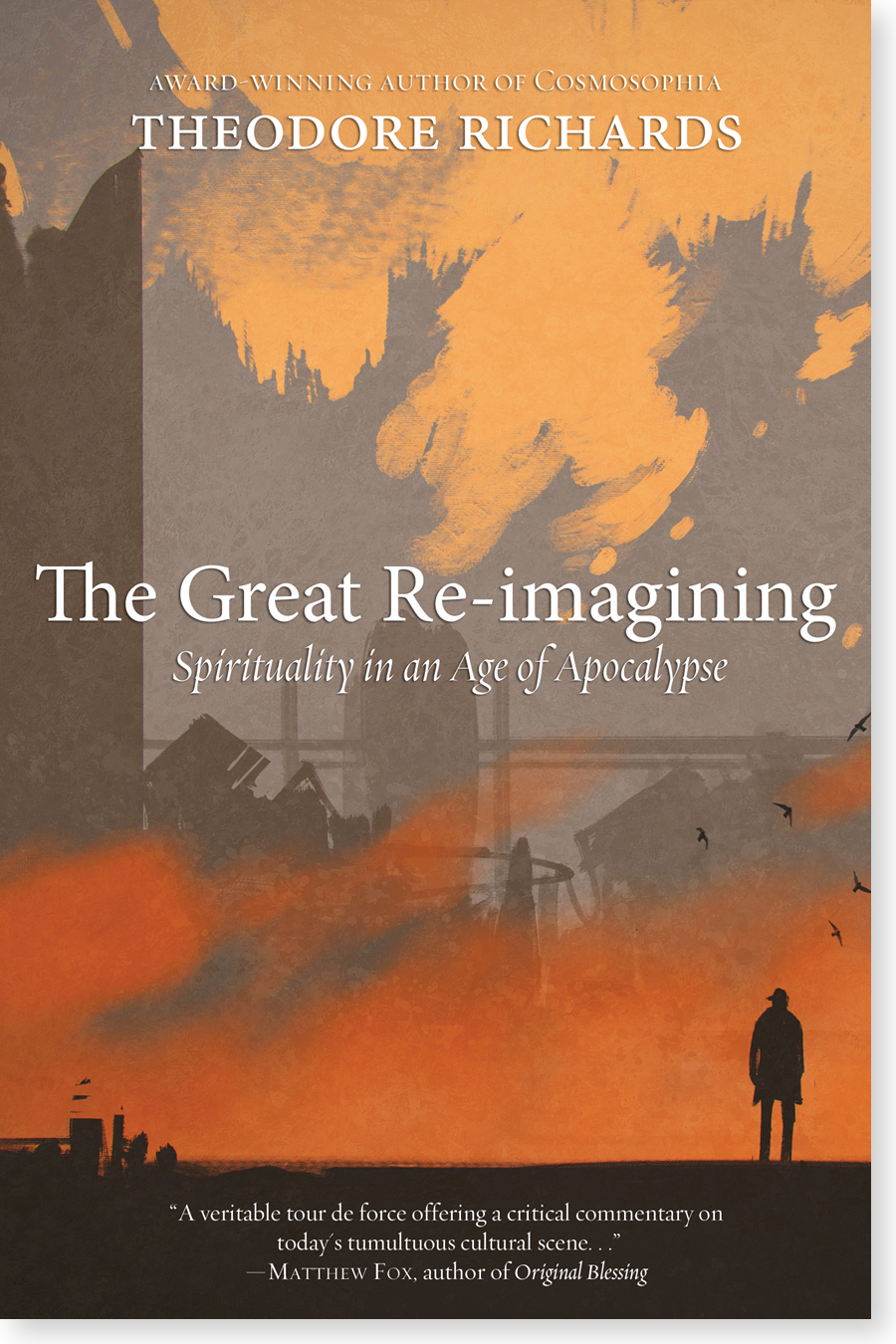 "These are the end times." We hear this sentiment in one way or another from various sources, from the fundamentalist preacher to the scientist warning us of climate change. This is a time of economic uncertainty, political oppression and cultural unraveling.
Apocalypse, in the ancient world and today, is the experience of disconnection, of unraveling. It is when old gods are dying and the old stories no longer have meaning. Drawing from sources ranging from the ancient apocalyptic traditions to contemporary science,
The Great Re-imagining, 2018 Forward Reviews book of the year finalist and winner of the 2018 Nautilus Book Award, explores the deep narratives that have brought us the brink of apocalypse and invites us to re-imagine our place in the world.
Praise for The Great Re-imagining

[A] veritable tour de force offering a critical commentary on today's tumultuous cultural scene. Placing our times in the context of apocalypse or end times seems strikingly well timed given the current goings on in the dark Trump/Bannon political moment. While unveiling causes for our dilemmas and feelings of powerlessness, Richards also provides ways to revelation and empowerment and therefore to hope… [A] vision for twenty-first-century activists that could match that offered by Herbert Marcuse to the 1960's generation calling as it does for a spiritual revolution that re-connects psyche and cosmos, cultural criticism and a preference for community over individualism.
– Matthew Fox, author of Original Blessing
With grace and intelligence grounded in a generous spirit, Theodore Richards plunges into the vortex and grapples with the fundamental questions that haunt us, that swirl around us in chaos and furor. What does it mean to be human at this precious but precarious moment? Let go. Dive in. Have your awakening in the uproar of the hurricane.
– Bill Ayers, Author of Fugitive Days
This engaging book examines Apocalypse as a rite of passage. After reading planetary "tea-leaves" suggesting certain destruction, Richards joins those challenging us to imagine global rebirth. If spirituality is our existential capability for such a transition, Richards suggests that, yes, interfaith spirituality is inevitable to global cultural evolution but spirituality's transformation will be far more radical than most suppose.
– Kurt Johnson PhD, co-author The Coming Interspiritual Age
"A work of great wisdom and prophetic imagination. Today we need Richards' work more than ever. I hope everyone reads this book and acts on it!"
– Adam Bucko, Author of Occupy Spirituality and The New Monasticism
The Great Re-imagining takes on our current apocalyptic moment, and dares us to imagine a new future, a new and universal cosmology, for which we have no obvious reference point, but which Richards provokes us to sense with wonder. This book is quite simply the manual for how to approach the apocalypse. Daring, visionary and blunt, it demands to be read.
– Gint Aras, Author of The Fugue
A reading of The Great ReImagining
By the author Theodore Richards